WATCH: Implementing Gateway at Place
Darren Birks, Senior Partnerships and Transformation Manager for Mental Health in Wirral Place, and Sarah Bradshaw, Commissioning Administrator for Primary Care, Mental Health and Learning Disabilities in Wirral Place, joined the Gateway Programme Team, Elizabeth Collins and Hannah Stace, to discuss their experience implementing Gateway at Place.
The Wirral Gateway was established in 2022. Darren and Sarah share their reflections on what has gone well, the reasons why and lessons learned.
---
---
This week the government launched a strategy setting out ambitions over the next 5 years to:
reduce suicide

improve support for people who have self-harmed

improve support for people bereaved by suicide
The strategy was informed by consultation during 2022, which included consideration of steps required to support multi-professional working across individuals, local government, NHS organisations, voluntary, social and community partners, in addition to the private sector.
It includes over 100 actions required across government and a wide range of organisations.
As Gateway Programme Manager, I particularly noticed the reference to bespoke actions and intervention required for certain groups, including children and young people. In addition, there is recognition of the need to ensure:
…actions are focused on prevention and early intervention while also ensuring there is the right support for people…strong collaboration, with clarity of roles, is essential. Suicide prevention is the responsibility of multiple government departments, as well as wider public, private and VCSE sector organisations
This aligns with the CNEST and Gateway model, which focus on early identification of complex, unmet needs for children and young people, in addition to providing an opportunity for multi-agency agreement of actions required by professionals to address those unmet needs.
Having experienced implementation of CNEST and Gateway in Cheshire and Merseyside during the past 12 months, I welcome the strategy's promotion of cross-sector working and joint action, including at a local level. I look forward to learning more about how the actions are taken forward in other integrated care systems, in addition to Cheshire and Merseyside.
---
BLOG: Hannah Stace, Gateway Project Support, discusses the upcoming Community of Practice Event
By Hannah Stace, Gateway Project Support:

Thank you to everyone who attended the event in October, we got some really good feedback and I thought it was really interesting that so many people would like to see more case studies. Here's some of the key themes from the feedback we recieved: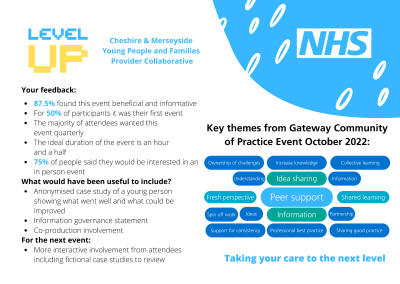 We're currently developing a fictional case study to help make it easier to understand how certain elements of the Gateway work. We hope to have this ready for an event in the near future so please let us know what the most common challenges are that you're facing, and we'll incorporate them into the case study.
Also, we're excited to invite professionals involved in in the Children and Young People's Mental Health Gateway to our next Community of Practice Event on Tuesday 14 February 2023, 9.30am-11.00am. If you would like to joing the next Community of practice event please email: Gateway Project Support, Hannah Stace, hannah.stace@nhs.net or Gateway Programme Manager, Elizabeth Collins, Elizabeth.Collins21@nhs.net.
Following feedback, we've redeveloped the agenda to have a more detailed focus on peer support and shared learning.
At the event we'll be discussing:
Peer support
Shared learning
Updates from Gateway chairs

Progress on local gateways
Challenges gateways have had to overcome

Research on multi-agency problem solving
---

In 2017, the Cheshire and Merseyside Mental Health Programme Board introduced a New Care Model within CAMHS services, with the aim of reducing inappropriate referrals to and stays within Tier 4 inpatient services. In order to achieve this, the Gateway Meetings were introduced to encourage a multi-agency approach across disciplines to achieve community-based resolutions for children and young people within the local area. For more information on the New Care Model and Gateway Meetings, please see CYPMH Gateway.
WHY IS CHANGE IN CAMHS IMPORTANT?

It is estimated that 50% of all lifetime mental health disorders start by mid-teens (Kessler et al., 2007), emphasising the need for effective, early mental health support.

Less than 1/3 of children referred to CAMHS received treatment within a year, 32% remained on the waiting list at the end of the year.

Hospital admission can increase a young person's risk to self through dependency on services or learning and adopting new risk behaviours (Taiminen et al., 1998) and should therefore only be used when completely necessary.

Less than 3% of children in England accessed CAMHS in one year, a small fraction of those who need help.

(Childrens Commissioner, 2018)
This project, conducted at Liverpool John Moores University, aims to identify, evaluate and share learning on what works well and could be construed as good practice in the Gateway Meetings.
We plan to investigate this using a mixed-methods approach utilising both quantitative and qualitative measures to inform our conclusions. A real-world validation and Living Lab approach will be utilised.
QUANTITATIVE RESEARCH

QUALITITATIVE RESEARCH

Comparing real-world historical data, from 12 months pre implementation of the Gateway Meetings, to data 12 months post implementation.

Living lab approaches operate in a real-life context utilising a user-centric approach.
We will run three focus groups with professionals that have engaged in a Gateway Meeting.

The primary health outcomes will be: admission to Tier 4 CAMHS, length of stay in Tier 4 CAMHS, attendance at A&E, and number of bed days on paediatric wards. However, this will be informed by our qualitative research.

These focus groups will explore experiences of the Gateway Meetings, facilitators of and barriers to success, as well as inform our quantitative work and dissemination of findings.
The first focus group took place in January 2023.
THIS IS YOUR OPPORTUNITY TO GET INVOLVED...
We aim to complete a further two focus groups in 2023 and will be recruiting for these in the upcoming months. We would greatly appreciate and encourage involvement from professionals with experience of the Gateway Meetings as your insights and opinions will help to inform our project and conclusions. We also hope that open discussions between colleagues from different boroughs and disciplines, will allow you to share insight into positive work practices and experiences with one another.
Elizabeth Collins will share information regarding the focus groups when the details are confirmed, and invite you to take part.
MEET THE RESEARCH TEAM

Dr Rafaela Neiva Ganga
(Principal Investigator)

Rafaela is a lead researcher on the real-world validation of health services. As an expert on methodological design and service, she is experienced in helping innovators apply a range of research methods to understand their services' real health benefits.

Dr Grahame Smith
(Co-Investigator)

Grahame is a mental health nursing academic and a reader in mental health and service lead. He is the founder and centre lead for the Centre for Collaborative Service in Dementia, an accredited health living lab.


Dr Gemma Trainor
(Co-Investigator)

Gemma has over 30 years of clinical experience as a nurse consultant and Clinical Lead in CAMHS and has been working on research into children's mental health for 20 years.

Naomi Atkinson
(Research Support Assistant)

Naomi has a first class honours degree in Psychology and an MSc in Clinical and Health Psychology. Within these degrees she managed two long-term research projects.
References:
Childrens Commisisoner (2018). Children's mental health briefing A briefing by the Office of the Children's Commissioner for England November 2018 https://www.childrenscommissioner.gov.uk/wp-content/uploads/2019/02/childrens-mental-health-briefing-nov-2018.pdf (accessed 23 February 2023)
Kessler, C. R., Amminger, G. P., Aguilar‐Gaxiola, S., Alonso, J., Lee, S., D, & Ustun, T. B. (2007). Age of onset of mental disorders: A review of recent literature. Current Opinion in Psychiatry, 20(4), 359-364.
Taiminen, T. J., Kallio-Soukainen, K., Nokso-Koivisto, H., Kaljonen, A., & Helenius, H. (1998). Contagion of deliberate self-harm among adolescent inpatients. Journal of the American Academy of Child and Adolescent Psychiatry, 37(2).
---